Rollout & Deployment IT Services for your Enterprise
From project management to integration to imaging and scripting, our IT services are designed to fit your business
Our Rollout & Deployment Team expedites deployment processes and guarantees measurable quality. Whether you are deploying technology to a few, or a few thousand offices, we can help. Regardless of the type of equipment that your enterprise rollout requires, our team has the experience and knowledge to deliver a state-of-the-art solution.
We understand the nuances, planning, and detailed operational requirements necessary to deliver your technology rollout on time and within budget. Our experience managing large scale rollouts for customers nationwide has afforded us opportunities to develop accurate, cost-effective, and highly efficient operational processes. We will take the delays, extra expense, and confusion out of your IT hardware or software rollout by leveraging our technical operations team as a single source provider and a single point of contact.
Learn more about our Rollout & Deployment IT services in our Service Brief >>
Project Management
WEI can help architect solutions unique to your technology needs and support them with services provided by the finest certified project managers and engineers in the business. Large discount warehouses and distributors don't have the hands-on approach required to deliver customized solutions. Having a box show up on your dock at the end of the project process with your new technology inside is not a valuable model.
After assessing your environment and developing a solution, a project plan is created by our project management organization. WEI will collaboratively establish a schedule with your company to ensure all critical milestones are hit on time. WEI's courteous and attentive project managers will also assist in organizing services, ordering necessary products that best fit your needs, documenting scope changes, and modifying your solution plan if needed. Best practices are used by our project managers to ensure that project objectives are achieved on time and on budget.
WEI methodology includes all of the steps needed to make sure your solution is exactly the way you need it and that it's ready to operate on the day it arrives.
Staging (Rack & Stack)
Equipment can be staged and powered on at WEI for extended time periods when required (data center builds, consolidation, moves, etc.). Regardless of the project, WEI can provide access to equipment remotely, or on-premises, and offer training/implementation services for configuration.
Full solution stacks can be built out and delivered as complete, integrated cabinets. This process includes racking of all gear, complete cabling based on desired structured cabling schemes and best practices, and full power and interconnectivity testing. The complete cab will be labeled to the custom specifications you need—all with pristine cabling work and meticulous attention to detail.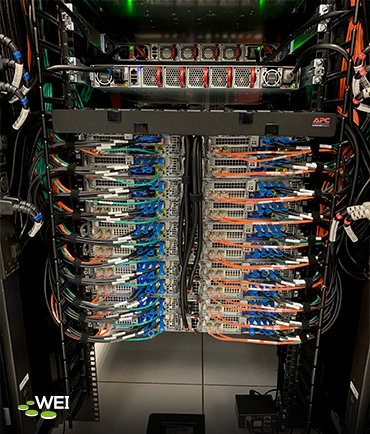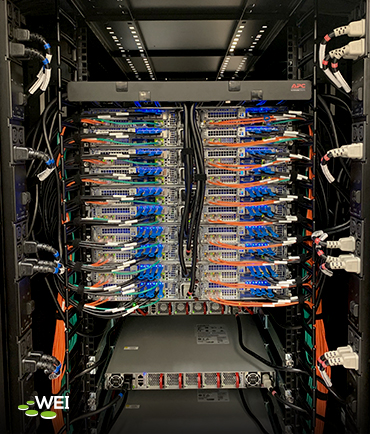 Learn more about our staging and rack and stack capabilities in our Service Brief >>
Integration & Testing
The Integration and Testing Lab at WEI helps to keep your costs down in several quantifiable ways. Equipment is unpacked, integrated, and tested in its entirety as the working solution you requested. At this time, all OS software and licenses are also integrated. This way, there is no chance of a DOA situation or subsequent delays that could follow. Before shipping, all the components of your solution are audited for the latest revisions, versions, and serial numbers. The revision matrix is coordinated and updated to reflect the manufacturer's best practices. This eliminates costly headaches and service calls in the future. After burning in, your solution is ready for shipment and delivery.
All parts and interoperating equipment are integrated at WEI's integration Lab. All special requests are accommodated, including:
OS versions
Image loading
Firmware revisions
Extended burn-in testing
Special cabling
Imaging & scripting
Loading custom images for workstations and portable products bogs down your technical staff, reducing innovation. WEI offers custom imaging solutions designed to fit your exact parameters. You'll receive your workstations, laptops, tablets, mobile phones and devices, and thin clients ready to deploy in the field. New employees will ramp up more quickly and your current employees will achieve new levels of productivity with their refreshed computer that is ready-to-go, containing the same familiar applications and productivity tools. Creating an "out of box" experience that is customized is critical in what WEI strives to provide its clients with.
WEI provides gold-standard custom imaging and scripting services including the following:
Deploy custom operating system images on multiple device types
Help design your business' custom OS image on multiple device types
Supply device types including laptops, desktops, servers, and tablets—of all manufacturers and types
Maintain your custom imaging solution
Additional technical configuration needs can be added including loading IPs, adding OSs, naming and labeling servers, and configuring any logical components of the solution stack.
Learn more about WEI's imaging and scripting services in our Service Brief >>
Hardware & Software
WEI will deliver, install, deploy and test your new IT hardware at any of your locations. WEI is an equipment agnostic partner trained and certified across a wide variety platforms. Our team will manage your project end to end assuring consistent results at predictable and consistent pricing.
WEI is not your typical VAR. Check out the additional services that are available as part of a hardware engagement:
Pre-site surveys
Installation services for all equipment, cabling and/or software
Ongoing data collection and oversight of the project process, including quality assurance
On-site training for new equipment
Logistics (transportation, site delivery, packaging, and warehousing)
Ongoing service and support​
Custom reports, dashboards and portals
Custom ticketing systems complete with SLA monitoring and reporting
Secure Customer Owned Inventory caged areas for roll-outs in WEI warehouses
Warehousing and flooring agreements
End of Life (EOL) and End of Support (EOS) planning and tracking
Intelligent asset tagging and tracking technology
Secure VPN Imaging with network pre-validation for new or refreshed employees
The world is being taken over by software, and it no different for your enterprise IT infrastructure. WEI will assist with deploying new software anywhere in your enterprise. Whether it is workstations, servers or software defined data centers, our virtualization team can assist with your enterprise wide planning and deployment including post sales training and educational services.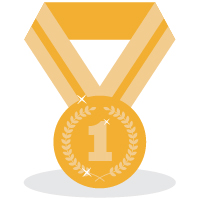 We're proud of our capabilities and expertise in virtualization and the advanced software solutions powering today's modern enterprises. WEI is one of only 5 IT solution providers in the United States to have earned 4 VMware Master Services Competencies.
Asset tracking
All equipment that goes through the WEI integration center is surveyed. A capture is done of all configurations and layouts, serial numbers, firmware levels, revision levels, and warranty start and stop dates. All of that data is archived and can be delivered to the customer in any desired format including customized reports or secure online portals.
WEI will collaborate with your company to produce customized, winning strategies. It is our aim to offer services that help your project run as smoothly as possible. In fact, WEI's proprietary intelligent asset tracking application, Smart IT Tag, was created as part of an innovate asset tracking solution we developed for a major technology manufacturer.
Intelligent Asset Tracking with WEI's SmartITtag
WEI's SmartITtag is a unique asset tag that digitally tells the complete story of the device by tracking information such as warranty, configuration, serial number, PO number, deployment date, past tickets, etc. all from a small data matrix sticker. This application easily links data to other data center applications, putting mobile productivity into the hands of the local user.
See how WEI's SmartITtag works in this video.
Contact us to learn more about SmartITtag with a personalized demo >>
Questions about WEI's customer-focused approach to Rollout and Deployment IT services? Contact us today to start a discussion.