WEI Named East Region Partner of the Year at 2018 Aruba Americas Partner Summit
Salem, NH, (April 10, 2018) – WEI announced today that it was honored as Aruba's 2018 East Region Partner of the Year at the Aruba Americas Partner Summit, held in Las Vegas, Nevada, March 25-30, 2018. The annual Top Channel Partner awards recognize the achievements of the leading Americas channel partners and distributors for Aruba, a Hewlett Packard Enterprise company, in the areas of sales, expertise in delivering Aruba solutions and commitment to customer service.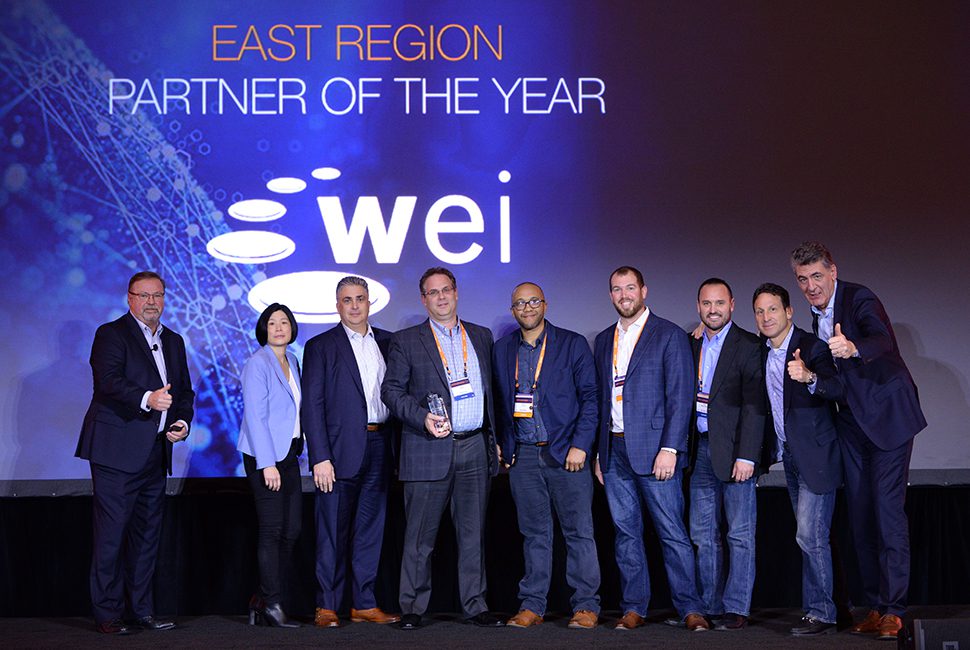 "We are honored to have been distinguished as the East Region Partner of the Year by Aruba. I attribute this honor to my dedicated team members and to the success and trust of our valued clients and customers," said WEI Co-Founder and President Belisario Rosas.
WEI won the award for:
Quickly adopting the full product solution that Aruba has to offer
A heavy investment in the full IntroSpect and ClearPass solutions
The company outgrew the market more than three times
"Aruba's long-standing philosophy of 'Customer First-Customer Last' would not be possible without our partners, who are some of the very best in the business," said Jim Harold, Vice President of North America channels for Aruba, a Hewlett Packard Enterprise company. "As organizations wrestle with enhancing the user experience and ensuring business resilience as they continue to adopt mobility, cloud and IoT, they need not just access to industry-leading intelligent edge solutions, but also expertise in how to deploy these products to solve real-world challenges. We congratulate WEI for being named a 2018 Aruba Top Channel Partner and thank them for their dedication to their customers' success."
About WEI
WEI is an expert in business technology improvement, helping clients optimize their compute environments and work efficiently. WEI works with clients to integrate corporate strategy, new technologies and their current IT environment into one company-wide model to increase utilization and efficiencies around their unique business processes.
WEI's clients benefit from a strong focus on customer satisfaction and attention to detail. They combine cutting edge technology with architectural design, value-added services, onsite training, integration, testing labs and a commitment to quality. From solution design through implementation, WEI's sales and technical team remains focused on providing unwavering support throughout a project. For more information please visit www.WEI.com.
WEI Media Contacts:
Anna Izenman & Erika Taylor Montgomery
408-218-2391