WEI Employees Named as VMware vExperts
Josh Satrape and Mark Gabryjelski Selected for 2020 Program
March 11, 2020(New England) — WEI, a New England based leader in IT solutions and services, is pleased to announce Josh Satrape, senior virtualization engineer, and Mark Gabryjelski, senior architect and virtualization ambassador, have been selected as participants in the prestigious 2020 VMware vExpert program.
Those named as vExperts receive the honor for one year; to stay in the program they must apply again once the year is over. Satrape and Gabryjelski, who have both been previously selected to the program, were named vExperts after passing the rigorous application process.
The program selects candidates who have expert knowledge of VMware and demonstrate continued efforts to contribute that knowledge back to the community. While the awards are for individual experts, the activities of the company that employs the individual are also considered.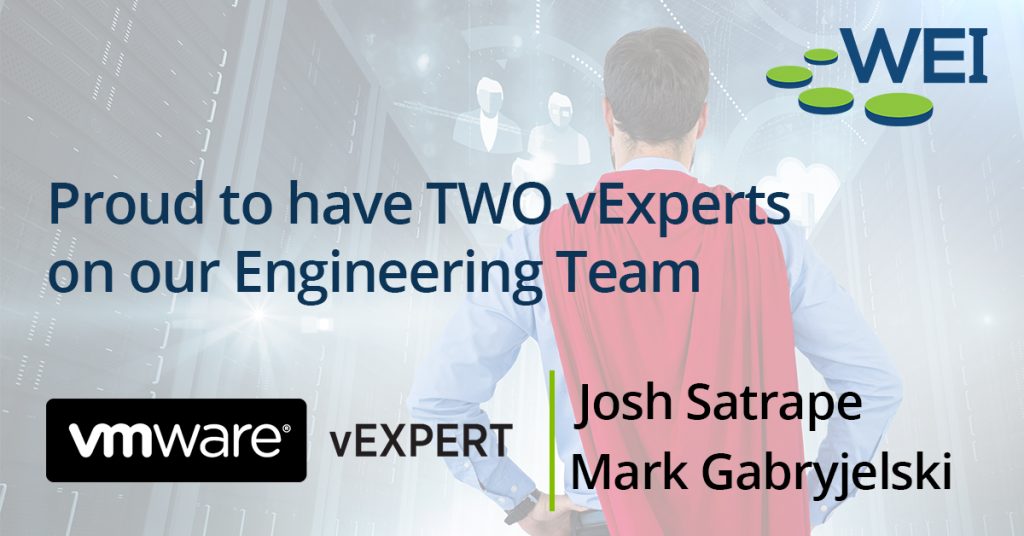 As an Enterprise Partner of the VMware Partner Professional Services Program, WEI recently achieved its fourth VMware Master Services Competency, representing four areas of proven expertise: Cloud Management and Automation, Data Center Virtualization, Digital Workspace, and Network Virtualization. In addition to demonstrating WEI's commitment to supporting organizations through its digital transformation process, this milestone also exhibits WEI's customer-centric solutions and technical proficiency.
"We are very proud of both employees, not only for their selection, but for their ongoing dedication to providing the very best in IT solutions for our clients," said WEI President Belisario Rosas.
According to VMware, 1,730 IT professionals from 40+ countries were selected to participate in the 2020 program.
As vExperts, Satrape and Gabryjelski will continue to lead the way in applying VMware expertise to the development of IT solutions for WEI customers.
About WEI
WEI is an expert in business technology improvement, helping clients optimize their compute environments and work efficiently. WEI works with clients to integrate corporate strategy, new technologies, and their current IT environment into one company-wide model to increase utilization and efficiencies around their unique business processes.
WEI's clients benefit from a strong focus on customer satisfaction and attention to detail. They combine cutting edge technology with architectural design, value-added services, onsite training, integration, testing labs, and a commitment to quality. From solution design through implementation, WEI's sales and technical team remains focused on providing unwavering support throughout a project. For more information please visit www.WEI.com.
VMware, vSphere, Workspace ONE, Horizon, and NSX are registered trademarks or trademarks of VMware, Inc. in the United States and other jurisdictions.
WEI Media Contacts:
Shanai Bemis & Erika Taylor Montgomery
408-218-2391